Who// Brittany Hough
What// macrame decor, wall-hangings, arbours, plant-hangers, and baby-bunting
Insta//  https://www.instagram.com/misspetalandco/
Facebook//  https://www.facebook.com/misspetalandco/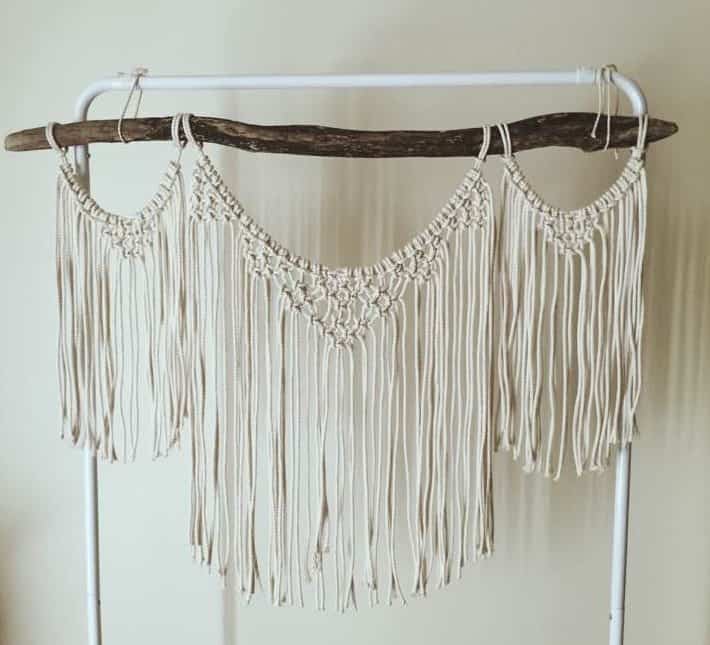 One of Castlemaine Artists' Market's newest stall holders, Brittany Hough (Miss Petal and Co.), is a Bendigo-based fibre artist, designing and creating macrame decor, wall hangings, bridal arbours, plant hangers and baby bunting.
Brittany develops rough designs in a notebook, then produces each individual design, using 100% Australian cotton rope.  Some pieces may take up to 30mins, but the more detailed pieces, can take up to 10 hours.
"Sometimes I've come up with a design, or have an idea in my head, but when I start knotting, it turns out totally different. This is generally because of the thickness/thinness of the rope or the knots not being symmetrical. I like that I can just work with the rope and be a little bit more rustic."
Brittany has developed Miss Petal and Co. over the past year or so.  Her inspiration coming from design and bridal magazines like Hello May and Frankie.
"There's some amazing fibre artists around the world and I definitely find a lot of inspiration and motivation from them!"
What's in the pipeline for Brittany? She's got some local market stalls coming up and she's currently working on a website so she can start selling online.
You'll find Miss Petal and Co. at the July Castlemaine Artists' Market – 2 July, 9am-2pm at the Castlemaine Western Reserve, Forest Street.